** Update: We have now filled up the positions from our own funding sources with regard to pure bioinformaticians (soon to be 3!). Instead we are now prioritizing applications for postdocs and PhD candidates with focus on wet lab methods development – although these positions will also contain elements of bioinformatics, up to the level suited for the candidate **
Do you think biology is progressing too slowly? This lab might be the place for you! Send your CV and tell us what you might want to do. We want to develop better high-throughput protocols, combined with machine learning, to rapidly figure out biological pathways. For this we need a PhD candidate and a postdoc with a broad interest for pathways, who also can help us generate the required data. You will also learn and get plenty help with the bioinformatics, to the point where you can tell us what is going on in the data.
The position involves a large number of protocols, and you will need to be able to take decisions of your own. You will plan and execute protocols (postdoc will help supervise the PhD candidate). We got robotics and several state of the art instruments to help with the sample processing (python programming knowledge helps, but is not a requirement). We generally do not use kits but rather rely on recent protocols that generate large amounts of data at low cost – understanding the molecular biology is essential. Downstream we have access to excellent core facilities for mass spectrometry and sequencing.
We are not expecting you to have all the skills right off the bat, but some useful skills include basic cell culture, transfection, virus production, cloning and CRISPR. Any dabbling with MS or NGS would be great. A fair amount of literature reading is bound to be involved.
The location – MIMS, Umeå, Sweden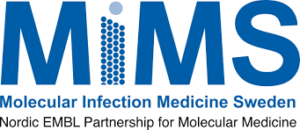 Our lab is located at Umeå University, and MIMS, a part of the Nordic EMBL Partnership for Molecular Medicine. This place has long been a centre of excellence for molecular genetics and pathogen research. Our group takes advantage of this, bringing mechanistic knowledge of disease up to modern scale with high-throughput biology. Umeå is a vibrant town, largely due to the students – international as well as from all over Sweden. Some personal favourites include the Swedish cuisine (gastropubs and microbreweries), over 6 dance styles represented, one of Swedens largest ju-jutsu clubs (among other budo), indoor and outdoor climbing, winter sports, sailing club, etc … And not being Stockholm, a place to live is affordable. Oh, and don't worry about the language. The local pub even runs their pub quiz in english, as is the case with many other social activities! For some news from Sweden, in english, try out The local.